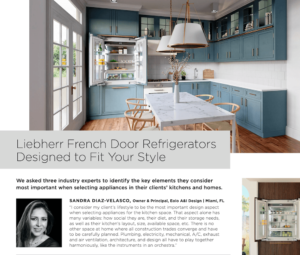 Architectural Digest asked three industry experts to identify the key elements they consider most important when selecting appliances in their clients' kitchens and homes.
Here is Sandra's answer:
I consider my client's lifestyle to be the most important design aspect when selecting appliances for the kitchen space. That aspect alone has many variables: how social they are, their diet, and their storage needs, as well as their kitchen's layout, size, available space, etc. There is no other space at home where all construction trades converge and have to be carefully planned. Plumbing, electricity, mechanical, A/C, exhaust and air ventilation, architecture, and design all have to play together harmoniously, like the instruments in an orchestra.
Download the Complete PDF Feature Below